Pet City Group ("Pet City") is the clear leader in the specialist pet care retail market in Greece with over 90 stores, 3 e-commerce shops, over 3,5 million customers, over 17 thousand unique products and over 800 employees.
Our majority shareholders, BC Partners, are one of the largest and most experienced private equity groups in Europe, with funds under management in excess of €34 billion and a significant investment track record in the pet and the broader animal health space. Notably, aside from Pet City, BC Partners are also the current majority shareholders of PetSmart (largest brick-and-mortar specialist pet retailer in North America with over 1,650 stores), Chewy (largest online specialist pet retailer in North America) and VetPartners (one of the largest and fastest growing operators of veterinary practices in Europe). In addition, BC Partners used to be the owners of Antelliq, a global leader in animal intelligence, which they sold to Merck in 2019.
Pet City was founded in 1988 as a family-owned wholesale business. From 1988 to 1995 the company operated as importer, wholesaler and distributor of pet products to more than 1,500 pet shops in Greece. In 1996, the company expanded its business into retail, with its first retail store in Paiania, Athens, Greece. From that day on, Pet City has managed to become and remain the leading specialty retailer of products and services for pets, across all aspects and stages of their lives.

Today, Pet City holds over 30% share of the non-supermarket pet market and generated approximately €52 million in sales in 2021 and estimates to reach €60 million in 2022. Pet City operates a network of 90 stores, which is over 7x bigger than that of the next largest specialist competitor in Greece. The company's footprint is currently focused on the Attica region with a rapidly growing presence in other key urban centres in Greece. According to the company's strategic plan, Pet City will reach 200 stores until 2027 in Greece and will also expand in the Balkans. In addition, the company recently celebrated the opening of its first franchise store in the Paros Island. In addition to its rapidly growing retail store network, we have also established three e-commerce platforms, Pet City, Petamazon and Pet Leader B2B in order to meet the ever-changing needs of our over 3,2 million retail and wholesale customers. Pet City and Petamazon are retail e-shops with a full range of pet products. Pet Leader B2B was created in order to supply 1500 pet shops all over Greece. The basic aspiration is to be the link between the biggest company abroad and all pet shops in Greece, no matter its size.
The company offers a wide assortment of over 17,000 unique products to its customers, including major international and specialized niche brands. Hundreds of these products are procured to the Greek market exclusively by Pet City, while the company has been developing its own private label lines to cater to the specific needs of its customers in key segments of the Greek pet care market. Apart from pet supplies, Pet City also offers a range of pet care services, including grooming and veterinarian care. Case in point is "Vet City", the company's veterinarian centre co-located with Pet City's Glyfada store, which is equipped with the latest medical facilities and staffed with highly experienced veterinarians. Committed to continuously strengthening and broadening its relationship with the Greek consumers, we constantly strive to establish new, lasting relationships with local and international product and service suppliers to further expand our portfolio and offer even greater value to our customers.

Pet City's operations are hosted in state-of-the-art facilities in Koropi, Athens, Greece. The company's headquarters and logistics hub span an area of 25,000 m2, with a total logistics capacity of over 15,000 pallets. The Koropi headquarters also host the "Pet City Academy", which is a platform for the company's 800+ employees to receive regular training programmes and participate in seminars. We place paramount emphasis on the continued growth of our store and headquarter employees, as they have been the main engine of the company's successful past and the key source of our future growth.
At Pet City, we are also deeply committed to the protection of animals and of our environment. As such, we regularly organize and partake in several relevant initiatives and have developed strong relationships with animal welfare authorities and charities that support stray animals. Even more importantly, we are trying to educate people into shaping a unified culture on treating animals with love and respect. One of the key tenets of our history and a guiding principle for our future is to always stay true to our core values: love, trust and responsibility towards people, animals, and the environment.
Pet City is the Νο1 chain of Pet Stores in Greece,
and has grown to acquire the 9th place of Pet Shop chains in Europe.

1988

1996

1998

2001

2004

2005

2006

2007

2008

2009

2010

2011

2012

2013

2014

2015

2016

2017

2018

2019

2020

2021
1988

Company Foundation Founded and operated as importer and wholesaler, distributing pet products to more than 1.500 pet shops.

2001

Buying out CITY ZOO, acquiring a bigger share of the market

2004

Opening of 2 new Pet City stores

2005

Opening of 1 new Pet City store

2006

Buying out GRECOVET and PET CHAMPION, acquiring 5 more new stores

2007

Opening of 3 new Pet City stores

2009

Opening of 2 new Pet City stores

2010

Opening of 3 new Pet City stores

2011

Opening of 3 new Pet City stores

2012

Opening of 5 new Pet City stores

2013

Opening of 5 new Pet City stores

2014

Opening of 9 new Pet City stores

2016

Opening of 2 new Pet City stores

2018

Opening 2 Pet City stores in Thessaloniki, the second biggest city in Greece and 2 new stores in the region of Athens

2019

Opening of 5 new Pet City stores

2020

Opening of 7 new Pet City stores in the suburbs of Athens

2021

Opening 1 Pet City store in Korinthos, 1 store in Salamina and 6 new stores in Attica. Also, the company's first franchise store opened in the island of Paros.
PET CITY staff members have great expertise in the Greek Pet Shop market and all the products, due to their constant training and participation to seminars.
At PET CITY's main facilities there is a specially designed seminar room with state-of-the-art equipment, where educational courses are held by Greek and foreign speakers from all over the world.



PET CITY ACADEMY
THE KNOWLEDGE IS OUR POWER

Human resources is a particularly important asset for the PET CITY family, as they are inextricably linked to its continued growth and goals, as the leader in the pet care industry. However, an important and necessary asset for the development and utilization of human resources is the effective training. Having the provision of excellent service to our customers as our primary goal, we invest in the training of our staff. That's where the PET CITY Academy comes in.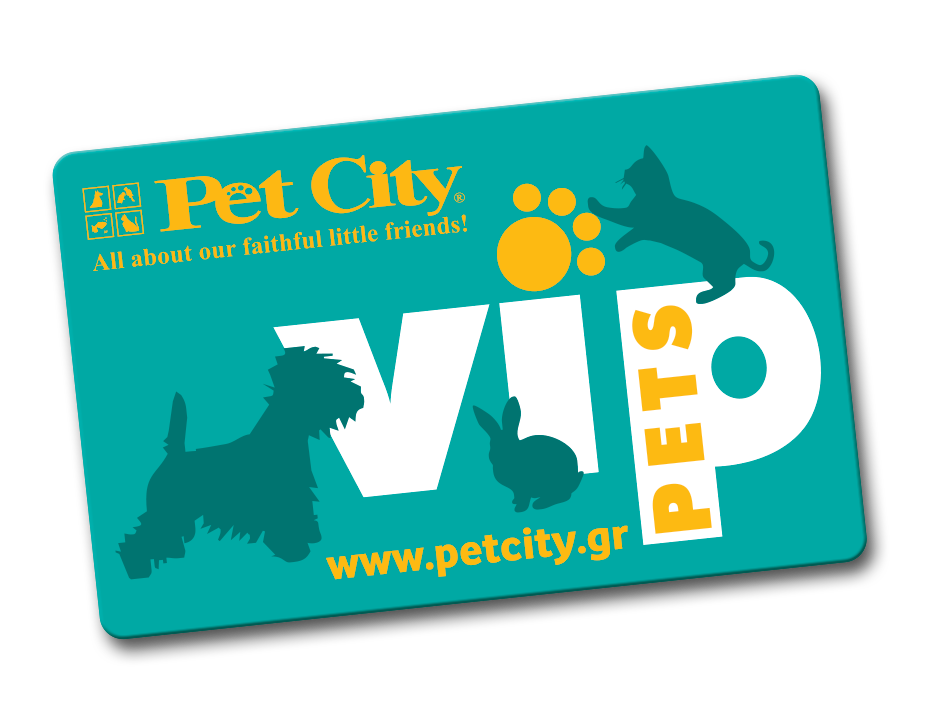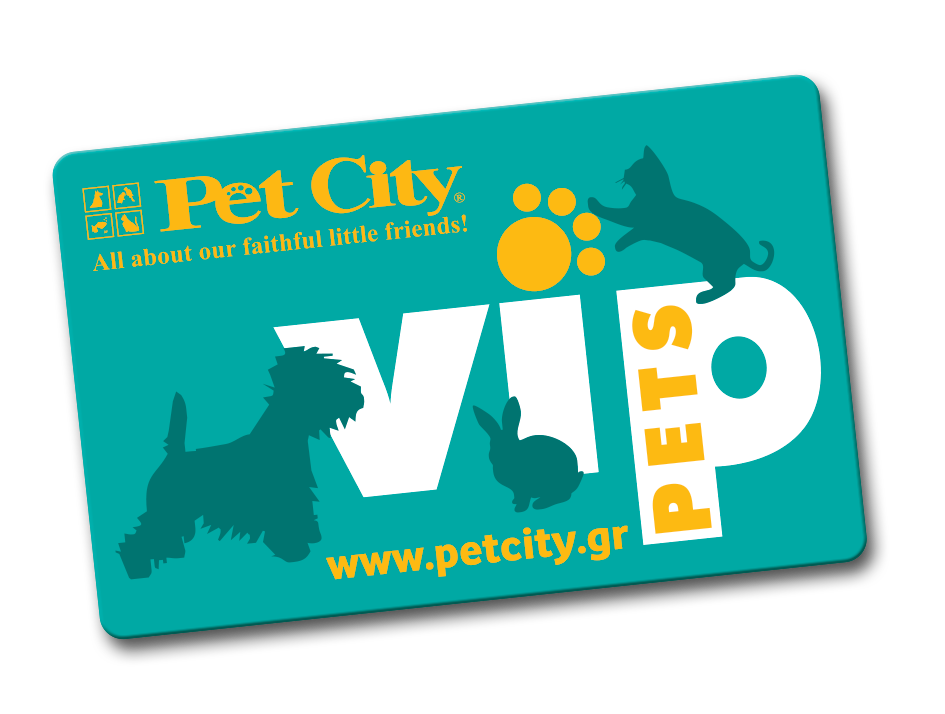 We have been building a relationship for life with our loyal consumers for over 30 years also by offering a Loyalty Card that brings us closer, using more incentives, benefits, opportunities and information.
Our customers are part of our business and by using their V.I.P. Card, they create the necessary conditions to get to know each other better and to understand their growing needs and preferences.
The information gathered from the use of V.I.P. Cards helps us respond to the new trends and to think BEFORE our consumers FOR our consumers.
That is why we are creating a relationship for life that is worthy of our ultimate consumer who is a pet, offering high quality at the most competitive prices.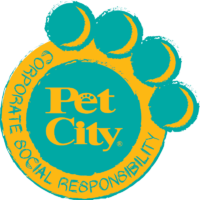 We organize and participate to causes and actions for the protection of animals and the environment.
We support our employees through continuous training and invest in them through educational trips as well. It is our idea that our people should love what they are doing, just like we do. So simple.
We are trying to educate people with our specialized knowledge, by providing advice and aiming to shape a unified culture of how to treat animals with the love and respect they deserve.
All the company's employees are like family to us.
We have direct contact with animal welfare authorities and charities and support stray animals.
We have excellent relationship with hundreds of suppliers in Greece.
We provide free food for animals throughout Greece, wherever needed.
Pet City Group is always on the search for fruitful cooperations, aiming to make the world of pets even better. Thank you!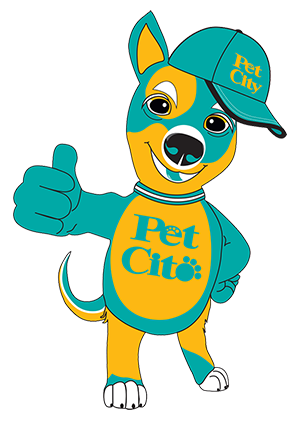 OUR SLOGAN
All about our faithful little friends!
OUR VISION
The creation of a better and more reliable world for all animals!
For nine consecutive years (2013-2021), PET CITY has won the Diamond Business Award from Active Business Publishing and Stat Bank, an award given to the healthiest, most dynamic and fast-growing businesses in Greece.
In 2013, our company was awarded as one of the 500 fastest growing companies in Europe by the IESE Economic School, one of the most renowned and globally recognized Business Administration Universities in Barcelona.
In 2021, the company received 2 new distinctions: "Protagonists of the Greek Economy" from Direction Business Network, an award that rewards leading businesses that play a major role in paving the way and in actively supporting the Greek economy. The company also received the "Gold Winner Specialized Retail Stores Franchise" award from The Franchise Success Awards.

Pet Leader was created in order to supply Pet Shops all over Greece with immediacy, convenience and professionalism.
The basic aspiration of Pet Leader is to be the link between the biggest companies abroad and all the Pet Shops in Greece, no matter their size.
With the main message "Every order counts" the Pet Shop professional has the ability to order directly without the requirement of a specific order volume that can cause delays to the order, as well as to the delivery.
Pet Leader gives direct solutions to the specialized needs of Pet Shops.
It is the steady Partner of the Pet Shop owner who listens to his needs, thinks for him before him and has the ability to ensure the most competitive wholesale prices with large profit margins.
Pet Shop owners  do not need to order huge quantities or have big warehouses to keep the products. PET LEADER does that for them!
With PET LEADER as a partner, Pet Shop owners have the ability to:
• Order their real needs, saving time.
• Supply their Pet Shops with products without commitments of specific order volume.
• Gain everyday motivation which will ensure success.
• Enrich the product line of their Pet Shops with the newest products from abroad fast and easy every day.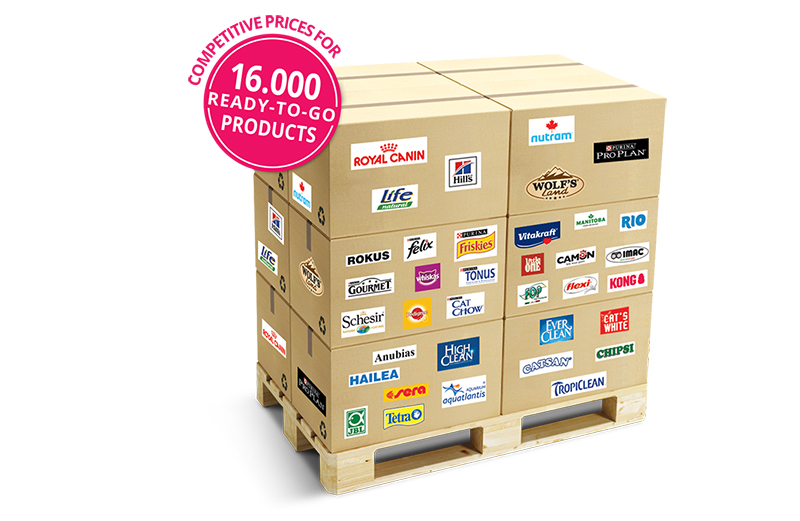 The best prices in the market for 15.000 ready-to-go products!
Fast delivery within 1 to 3 working days
All means of payment
Free delivery for orders over 30 euros
12.000 daily visitors!